PROFESSIONAL HEADSHOT IN SAMMAMISH, BELLEVUE, REDMOND AND SEATTLE EASTSIDE
Find your amazing Headshot.
What can I do for you today?
Choosing Your Photographer
Have a look at the photographer's photos. Are they consistent and high quality? Does it look all over the place? They need to have a similar look and feel while conveying confidence.
Professional headshots fall under two categories: creative and technical. A good photographer has a mastery of both from years of experience. Which means this falls in the 'you get what you pay for' category. Be wary of a deal that is too good to be true.
Do you connect with the photographer in a way that feels natural and genuine? To get a great headshot, you need to feel relaxed, confident, and that you are being handled by a professional.
More industries than ever require a headshot to make connections.
You are a professional – your headshot should show what you bring to the table. Time to move on from that five year old badge picture!
The corporate world is interwoven with the digital world as a matter of necessity. If you want to be in the game, you want to look like you belong.
Consistent, great looking headshots of your team shows professionalism clients and is a positive morale booster for employees.
My father and I manage a financial planning practice together, and we were fortunate to work with John to create new headshots to replace our former photos from a few years ago. John was a pleasure to work with and made our experience comfortable and enjoyable, while also producing a high quality product that is a massive upgrade over our previous headshots. We would absolutely return to John next time we need photos taken, and we would highly recommend John to anyone seeking new quality photos for business or personal reasons!
John is a master of his craft and puts you at ease to get the best possible photo of you! Highly recommended, great experience!
John is an amazing photographer. We appreciate his partnership ensuring everyone is comfortable in the photo setting. We've rehired him many times!
John brings out one's natural smile during his sessions. It was fun to be at his studio and am very much happy about the results.
I highly recommend John for headshots. He has an incredible eye for detail, and made the process both fun and relaxing. His turnaround time was also impressive!
Working with John Ludeman for photos was very productive and professional. He knows how to get good shots in a short period of time. He took the necessary time to get the right pictures. He knows his craft and truly enjoys what he does. Great value and I highly recommend John for any of your photography needs.
Excellent service, professional every second, 100% tailor-made. It was great. Thank you !
Laura Ledenbach
2022-09-20
If you're in need of having that fabulous headshot photo for your LinkedIn profile, for work or that brochure, look no further than Ludeman Photographic. What a wonderful experience from start to finish. John sets you up for a successful, and downright amazing, headshot photo. He walks you through the entire process, puts you at ease with every click of the shutter, and you end up with that one amazing photo that shows the real you. Many thanks John, for a truly awesome experience and that exceptional headshot! Highly recommend!!
Thanks John for such a fantastic experience at your studio. I couldn't be more satisfied with the results of my headshots. John is super passionate about his work. He's very welcoming, friendly, and an absolute expert in photography. He instantly connected with me, and brought out my character through his shoots. He gave me genuine, and helpful feedbacks in selecting my shots. I really love his work!
Companies from across Seattle and the Eastside have entrusted their Executive and Employee Headshots to Ludeman Photographic include Amazon, Microsoft, Salesforce, WiX and Icertis.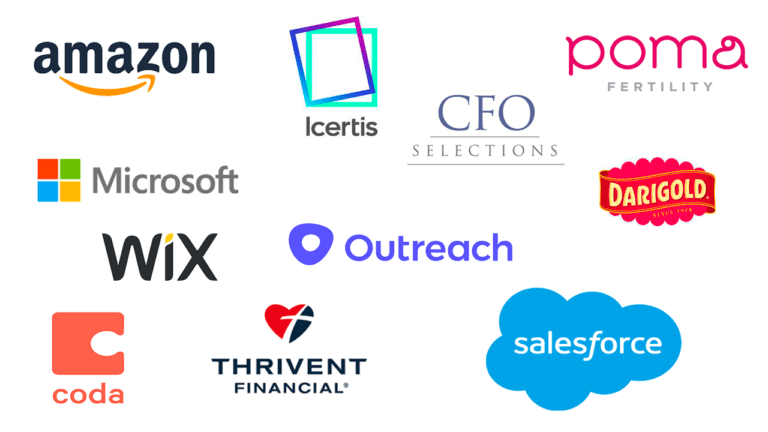 We live in the digital age where information can be accessed almost anywhere, anytime.
It's time to elevate the professional image the world will view you through.
Let's get started!
Headshots help tell Your Story and Where You are Going
The photographer you choose is what determines the results.
You need an expert that can coach you on camera and bring out those awesome facial expressions. This is key to an amazing headshot, showing your confidence on camera.
The mark of a pro is having a portfolio that is visually consistent and looks amazing. My images are high quality and crafted in the most flattering way for you.
Your photos should show through who you are and the relationship with the photographer is essential to show that.
Reliability should be a given when you work with a professional from start to finish. The process is what ensures the product.
You need your images quickly with easy access; digital delivery is typically within a couple of days. You can download them at your convenience for 30 days.
At this point, I've heard all the reasons why a client thinks they can't take a great headshot, and I have an answer for all of them. It's my job to help you overcome yours.
Schedule a standard session time slot in the studio using the online calendar – Session Scheduling.
Tell me more a bit more what you are looking for and I'll quickly get back to you on likely costs – Get Info for Pricing