PROFESSIONAL HEADSHOT IN SAMMAMISH, BELLEVUE, REDMOND AND SEATTLE EASTSIDE
Find your amazing Headshot.
What can I do for you today?
Featured on the "Be Ready Academy" -
More industries than ever require a headshot to make connections.
You are a professional – your headshot should show what you bring to the table. Time to move on from that five year old badge picture!
The corporate world is interwoven with the digital world as a matter of necessity. If you want to be in the game, you want to look like you belong.
Consistent, great looking headshots of your team shows professionalism clients and is a positive morale booster for employees.
Great work with headshots, super friendly, and extremely quick turnaround and responsive to touchups and questions. Thank you John!
John was very fun and professional! He's clearly a veteran in the business because he knows all the tricks to keeping us authentic and producing excellent results. The edits were perfect. John is a pleasure to work with. Would recommend to anyone for professional headshots.
Easy going manner and was able to snap an excellent headshot I will use for years to come. Would definitely recommend.
Wendy Crisafulli
2023-10-15
John Ludeman has his systems down! From the prompt reply to my initial contact to scheuling oan on-site photo session for my business, and of course (!) excellent photos of some very reluctant staff, he is 5-stars all the way. We have used these photos onour Facebook, in frames in the office, in marketing in correspondence and on Linked In. Thank you for visiting Crisafulli Dental.
It was a very pleasant experience working with John for my professional photoshoot today! He's super friendly, detail-oriented, and professional. More importantly, he works smart. He would go through the photos with you after each shooting session and help select a few, so you don't have to deal with a bunch of pictures one by one at the end. The methodology is super efficient and effective. But don't get it wrong! He's not trying to finish sooner. He takes time to ensure we get enough shots and comparisons of different outfits and ideas, and we can have a photo we like. It's an unquestionable five-star service!
John was great! Made us feel at ease and comfortable throughout our team shoot. Highly recommend utilizing his skills; you'd be lucky to work with him!
Very Professional. Easy to work with and pictures of our event turned out great!
Companies from across Seattle and the Eastside have entrusted their Executive and Employee Headshots to Ludeman Photographic include Amazon, Microsoft, Salesforce, WiX and Icertis.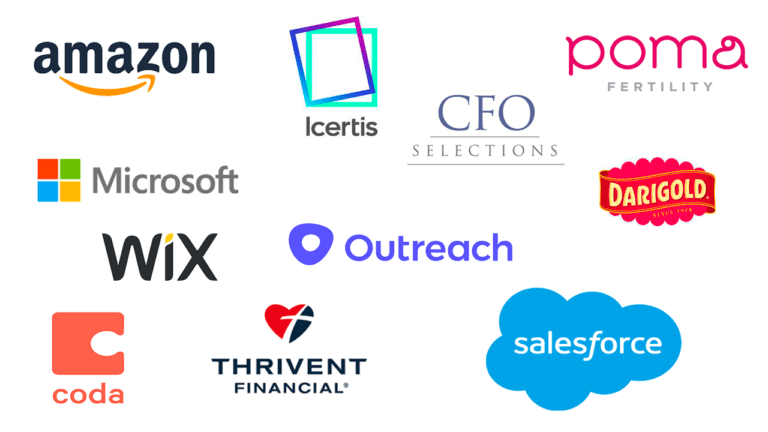 We live in the digital age where information can be accessed almost anywhere, anytime.
It's time to elevate the professional image the world will view you through.
Let's get started!
Headshots help tell Your Story and Where You are Going
The photographer you choose is what determines the results.
You need an expert that can coach you on camera and bring out those awesome facial expressions. This is key to an amazing headshot, showing your confidence on camera.
The mark of a pro is having a portfolio that is visually consistent and looks amazing. My images are high quality and crafted in the most flattering way for you.
Your photos should show through who you are and the relationship with the photographer is essential to show that.
Reliability should be a given when you work with a professional from start to finish. The process is what ensures the product.
You need your images quickly with easy access; digital delivery is typically within a couple of days. You can download them at your convenience for 30 days.
At this point, I've heard all the reasons why a client thinks they can't take a great headshot, and I have an answer for all of them. It's my job to help you overcome yours.
Schedule a standard session time slot in the studio using the online calendar – Session Scheduling.
Tell me more a bit more what you are looking for and I'll quickly get back to you on likely costs – Get Info for Pricing